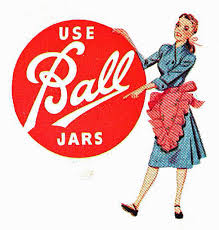 2013 marks the 100th anniversary of the first series of jars designed by Ball brothers, each jar intended to be better than the one before. 1913 saw the launch of the launch of the first true "Perfect Mason" jar. These limited edition jars are a celebration of the heritage featuring period-correct blue color and embossed logos on the front and back. These vintage-inspired jars maintain all of our modern standards for quality and reliability. Perfect for all of your home canning needs...or as a collectible item.
Pint jars come in period correct blue glass with "drop A" logo embossed on the front and 100 Year Anniversary is perfect for home canning needs or as a collector's item. 70mm regular mouth pint jar with band and lid, and clear measurements for portion control.

Perfect for preserving cherished recipes such as salsas, syrups, sauces, fruits and vegetables. Ball's famous glass jars and closures go beyond fresh preserving to help you with serving, creative décor and gift giving.
The trusted Ball® and Kerr® Brands of Fresh Preserving Canning Lids have been crafted for quality for generations. When it comes to canning, there's nothing more important than a quality seal. It ensures that no oxygen gets into the canning jar after processing and that your food will remain preserved just the way you created it.
Their manufacturing facility in Muncie, Indiana produces each lid with pride. Using their custom, time-tested sealing compound so you get a quality seal. And they also use an underside coating on each lid so that the natural acids in your food will not react with the lid.
The canning jars and lids have been made here in the U.S. for more than 125 years. So you can trust that each jar is every bit as genuine as the creation inside it.
For over 125 years, Ball fresh preserving products have been a staple in American kitchens, helping preserve freshness, healthy nutrients and delicious creations.