100% Natural Herbal Enhancement & Preventive Formula
With the growing awareness of the importance of natural health and organic living, many people have now turned towards preventive health measures and ways to naturally promote their health. So why should a person take ACOG? Beside the fact that the ACOG formula concept has been used around the world for over 50 years, here are three simple reasons why ACOG is a great choice...

Easy-to-Use


Maintain your daily routines (no embarrassing episodes or liquified bowels)


No fasting or special dieting
The ACOG Herbal Master Body & Colon Cleanse is a unique blend of herbs, formulated to provide superior support to the body's digestion, metabolism, immune and elimination functions. In addition, this Herbal Master formula acts as a gentle yet, effective colon cleanse and colon health supplement.
How Does It Work? ACOG assists your body by providing the essential food items, herbs and nutrients needed for the ideal health of these major functions...
√ Our digestion
√ Our metabolism
√ Our colon & elimination process
√ Our immune ability
Nine times out of 10, when a person gets sick, fat or uncomfortable, it is because they are eating too many harmful foods or, they are lacking essential nutrients. This is because they are not eating enough of the foods our body requires such as fiber and omega 3 fatty acids, just to name a couple however, the list goes on.
Everybody could benefit from taking a supplement such as ACOG, excluding anyone under the age of 17 however, ACOG is especially good for anyone over the age of 30. As the years go by, our bodies just don't operate as quickly or as efficiently as they did when we were younger especially, if our system has not been properly built and nourished with essential nutrients that keep the body and colon strong. In fact, the older we get, the slower our systems become. However, the aging process does not have to be as rapid as some of us make it. Some people are health conscious and have the knowledge plus the discipline to watch what they eat and put specific nutrients, herbs or food items into their diet. These kinds of people are usually the ones that live longer and prevent disease. Notably, all of us are not as health savvy so... For the rest of us, there is ACOG.
An Active Metabolism, A Strong Digestion and A Healthy Colon Are Likely To Produce These Great Benefits:
√ Having Higher Energy Levels
√ Soft, Clear Skin
√ Healthy, Stronger Nails
√ A Maintained Natural Body Weight
√ An aid to weight loss
√ A Flat Stomach
√ Less Hunger Cravings
√ Easier, More Frequent Bowel Movements
√ A Longer and Healthier Life! Slower AGING!The Ingredients in ACOG work together to build, detoxify, cleanse and strengthen the body to promote these great benefits
Recommended Dosage:
Take 3 capsules twice a day (morning and night) with 1 ounce of Aloe Vera each time. Be sure to drink at least 64 oz (half gallon) of water with this program. It is recommended to take 1/2 hour before eating.
It is very important to build, detoxify, and cleanse the body every three to four months. It is recommended to finish one bottle of ACOG Herbal Master with one bottle of ACOG Aloe Vera Concentrate every three to four months to promote optimal health. If you have not purchased the ACOG Aloe Vera, it is recommended to finish one bottle (180 caps) every three months.
The Ingredients found in ACOG are specially formated to provide support to SEVEN MAJOR areas of our health. Here is a breakdown of how the ingredients used in ACOG work together to target these areas in your body.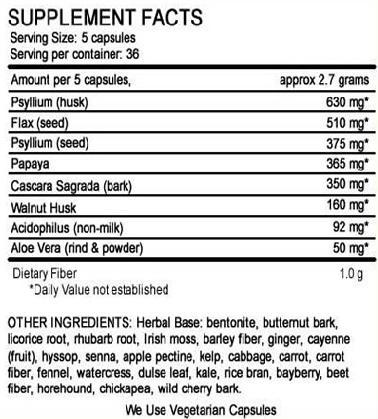 To Build & Rejuvenate The Body
Capsicum Frutescans (cayenne) - Rebuilds tissue in the stomach and helps to heal any stomach ulcers. Increases herb effectiveness. Used as a blood cleanser, helps gas, infection, mucus, ulcers and wounds.
Ginger - Brings blood to the surface in congested areas. Also, can help to relieve pain
Apple Pectin - helps maintain intestinal balance by cleansing the intestinal tract with its soluble and insoluble fibers. Apple pectin is helpful in maintaining good digestive health. Also, helps diarrhea, irritable bowl syndrome, prolapsed colon, and toxic bowels.
Cabbage - Contains antibiotic properties. Helps to heal tissues by encouraging cells to proliferate and also has been used as a liver decongestant also, helps with ulcers.
Beet Fiber - Stimulates and cleans the liver. It is nutritious and strengthens the system.
Horehound - Helps the healing of wounds and stimulates bile secretions. Also, acts as a laxative in large doses.
Hyssop - Helps the healing process. Used for poor digestion and useful for mucus congestion in the intestines.
Bayberry - used for sluggishness, indolent ulcer and mucous colitis.
To Cleanse The Colon
Flax - Lubricates and soothes, Can be used as a laxative, rich in Omega-3 Fatty acids, helps to regulate cholesterol and lower blood pressure.
Walnut Hulls - Cleanses the body of many types of parasites.
Cascara Sagrada - Cleans the colon and helps rebuild its function. Good for colon, constipation and digestion. Very valuable whenever there are hemorrhoids because of poor bowel function.
Senna - Tones and restores the digestive system as it thoroughly cleans it. A very useful laxative because it increases intestinal peristaltic movements.
Butternut Bark - Laxative herb that relieves gas, burping and helps rid the body of certain parasites.
Psyllium Husk & Seed - Excellent colon and intestinal cleaner. Used for cleansing the intestines and removing toxins. Good for colitis, colon blockage, constipation diverticulitus, dysentery, hemorrhage, intestinal tract and ulcers.
Aloe Vera - Cleans and soothes. Has antibiotic properties and helps constipation, digestion and hemorrhoids. Aloe has exceptional cleansing properties
Stimulate The Digestive System
Kelp - Regulates the metabolism which helps digest food. Kelp contains nearly 30 minerals to alleviate constipation, poor digestion and gas.
Carrot Fiber - Good for gas, diarrhea, indigestion and intestinal parasites.
Alginic Acid from Seaweed - Good for digestion, fatigue, infection, lead poisoning, irritated mucous membranes, obesity, dissolves firm masses in tumors, promotes urination and helps with water retention.
Wild cherry Bark - Helps to aid the digestion and tones up the entire system. Used for the inflammation of the mucous membranes condition . Good for catarrh, diarrhea, hardened mucous and intestinal worms.
Papaya - Good for heartburn, indigestion and bowel disorders.
Acidophilus - A friendly bacteria produced by fruits and vegetables that helps with digestion and fights parasites.
To Aid Metabolism
Watercress - Regulates the metabolism and the flow of bile. Helps to increase physical endurance and stamina. Useful as a blood purifier and tonic to help supply needed vitamins and minerals. Watercress is good for cramps, internal tumors and water retention.
Dulse Leaf - High in iodine, vitamins, minerals and promotes glandular health. Dulse Leaf helps to strengthen tissues of the heart and brain.
Kale - Known regulate estrogen and fight off cancer. kale regulates therefore it strengthens the metabolism. It also helps the protection of vision. Kale is high in calcium and is beneficial to the digestive system.
Rice Bran - helps with blood sugar problems
Licorice Root - An immune acting agent which helps digestion, urinary tract infections, bronchitis and gastritis. Also has inflammatory and anti-viral properties. Licorice Root has been known to nourish the brain-increasing cranial and cerebrospinal fluid. Also improves complexion, hair, and vision
To Curb The Appetite
Barley Fiber - Good for acid/alkaline
balance. Used as an appetite suppressant. Used for diarrhea, inflammation, abdominal tumors and weight loss.
Fennel - Helps to curb the appetite and stabilize the nervous system. Fennel moves waste material out of the body and improves digestion
To Eliminate Parasites
Turkey Rhubarb - Helps to inhibit bacterial growth.
Bentonite - A mineral clay that absorbs toxins and lowers negative bacteria
Since 1958, the ACOG formula was created based on close training, coaching and influence from the Late Herbal Legend Dr. Alvenia M. Fulton N.D., Ph.D . Dr. Fulton founded The Fultonia Health & Fasting Institute and also opened the first health food store in South Chicago. The ACOG formula combines over 30 herbs to provide superior support to the body's digestion and elimination process which was one of Dr. Fulton's main concerns for a person's health. As one of the early pioneers in the field of health and nutrition, Dr, Fulton persevered (often ridiculed and scorned in the early years) to become one of the world's foremost authorities in the natural health food industry.
A longtime advocate of the benefits of fasting, Dr. Fulton has authored several books and publications including; The Fasting Primer, The Nutrition Bible, and a collaboration with one of her most famous pupils, Comedian / Activist Dick Gregory, Vegetarianism; Fact or Myth? Her words have inspired thousands to become more health conscious and avoid crippling diseases without drugs and medication through therapeutic fasting and corrective nutrition. Recognized for her pioneering work, she is known as "The Queen of Nutrition" and "Dietician to The Stars" for the countless athletes, movie and television celebrities who sought out her guidance on how to live better the natural way. Dr. Fulton's Colon & Body Cleanse (powder and capsules) and Dr. Fulton's Whole Leaf Aloe Vera Gel Beverage were two of her most popular products. The ACOG Herbal Master Body & Colon Cleanse and Whole leaf Aloe Vera 10,000x concentrated juice are based on these formula concepts and are a continuation of her teachings and legacy. The ACOG formula is a formula concept used for over 50 years to provide support and nutrition to the body's major functions like digestion, metabolism and elimination. These are the concepts that Dr. Fulton shared with us so passionately. This formula was created based on very close training and coaching from the late Dr. Alvenia M. Fulton in efforts to continue her teachings of the importance of good nutrition, a healthy colon and taking better care of ourselves naturally.