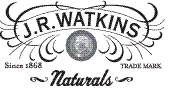 Refreshing lmon fragrance
Rid your home of dirt and grime without the harsh toxins found in other all purpose cleaners. J.R. Watkins Natural All Purpose Cleaner quickly removes grease and grime from most surfaces in your home.You'll find hundreds of uses for this great streak-free, earth-friendly cleaner.
Put this cleaner to the test on a variety of surfaces:

Appliances, sinks, countertops, stainless steel


Fixtures, floors, walls


Sealed granite, tile
Ingredients: water (aqua), ethanol (corn derived / issu du maïs), decyl glucoside (plant-derived surfactant / agent de surface issu de plantes), cocamidopropyl betaine (plant-derived surfactant / agent de surface issu de plantes), glutamic acid N, N-diacetic acid tetrasodium salt (naturally-derived biodegradable chelate /chélate biodégradable dérivé naturellement), preservative / agent de conservation, fragrance (contains natural oils / contient d'huiles naturelles), citric acid (food-grade / de q ualité alimentaire).
Jr Watkins Natural Apothecary Commitments
• 95% Natural and above
• Sodium Lauryl Sulfate Free
• Sodium Laureth Sulfate Free
• Paraben Free
• Phthalate Free
• Mineral Oil, Petrolatum free
• Dye Free
Nestled in the Mississippi River Bluff town of Winona, MN., Watkins has been America's pioneer in natural living since 1868. As America's original natural apothecary manufacturer, Watkins uses only the finest natural ingredients in its diverse lines of personal care, home care, remedies, and organic flavorings.
Committed to being America's most trusted natural products company, Watkins adheres strictly to the same quality standards set forth by its founder J.R. Watkins. J.R. Watkins line of personal care contains only natural, environmentally friendly ingredients from renewable resources, avoiding chemicals like parabens, sulfates, phthalates and more and, is one of very few lines to be certified by the Natural Products Association (NPA).
To earn this NPA seal, products must be made of at least 95% natural ingredients. This highly regarded seal represents the national standard for truly natural products and is carried by only a select group of brands that have met the demanding and proven natural standards.
Natural cleaners have also been a large part of its diverse product mix as far back as 1917, when the company first introduced Natural Vegetable Oil Soap made with pure vegetable oils and no animal bi-products, fillers or colors. Made with refreshing lemon and lavender oils and highly effective plant derived surfactants, Watkins diverse line of cleaners are safe and effective for your home and your family.
J.R. Watkins' six core values are:
• Demand of themselves the highest level of integrity.
• Focus on meeting their customers' needs and exceeding their expectations.
• Provide their investors an attractive return.
• Always take accountability for their mistakes.
• Encourage employees to develop, grow and improve quality of life.
• Contribute to the overall quality of life in their communities.