Blue Q Insulated Travel Mug Wake Up 15 oz/450 ml
Blue Q Insulated Travel Mug Wake Up 15 oz/450 ml
Your Price:
$12.95
(excluding tax)
(You save

$3.04

)
Rating:

Shipping:
Calculated at checkout
Gift Wrapping:
Options available
---
Product Description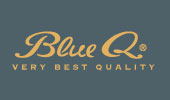 HOT Drinks Are Yummy and Fun to Take With You. So Are COLD Ones!


Food-grade stainless steel with double-walled vacuum construction


The greatest accessory on Earth


1% of sales support the conservation work of The Nature Conservancy
Elegant and playful. Just what you'd expect from artist Helen Dardik.
In 1988 when they started Blue Q, Don't Worry, Be Happy, won the Grammy, Rain Man won the Oscar, and Flat Cat, their first product won your hearts. Since then, the fertile Blue Q imagination has continued to spawn healthy litters of feral offspring that surprise, alarm and entrance a healthy line of customers. Blue Q's legendary level of materials and craftsmanship is standard equipment on everything they make since day one. So look and you'll find "Very Best Quality" stamped somewhere on all their wares! More info about Blue Q.
---
Find Similar Products by Tag
---
Find Similar Products by Category
---