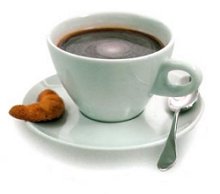 Our finest arabica beans are naturally flavored to give you this nutty, flavorful coffee. A classic favorite.
What type of bean do you flavor? Some lower grade specialty coffees use a cheap grade, filler coffee as their base and then over-flavor to cover up the taste of the bad coffee. Fortunes uses their Special Gourmet Blend which has a great, full flavor and then add just enough flavoring to accent the cup.
Adding flavors to coffee is not as innovative a concept as one may think. The Arabs were the first coffee drinkers who added spices such as cinnamon to their coffees. Other Middle Easterners followed with the addition of cardamom, clove, nutmeg, black pepper, allspice and even ground nuts. Later came the addition of citrus peels, spirits and chocolate. When coffee was introduced to the Western world, they added cream and sugar to enhance the coffee flavor. These natural flavorings were added to the coffee either while brewing or once it was in the cup.
Coffee beans' flavor characteristics come from a bean's roast type and growing region. Blending coffees marries flavor characteristics of different varieties and roasts for a more balanced flavor. All of Fortunes blends are created by carefully combining their finest, 100% Arabica varietal coffees to create an unforgettable cup.
For over 50 years Fortunes has been roasting gourmet coffees for people serious about their coffee. As you would expect from a specialty coffee roaster they only use 100% Arabica coffee beans and gently roast them to perfection in house. Fortunes Gourmet Coffees use the finest grades of specialty green coffees from the top growing regions around the world. Roasted daily to assure you the freshest flavor and aroma from the beans possible.