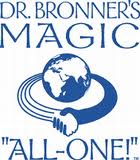 Wash With a Clean Conscience (Shave, Shampoo & Moisturize too)
Warm, comforting and slightly sweet – like marzipan or amaretto! Almond Pure-Castile Liquid Soap is concentrated, biodegradable, versatile and effective. Made with organic and certified fair trade ingredients, packaged in a 100% post-consumer recycled bottle. All-One!
Unlike any liquid soap you've ever used. A combination of organic extra virgin coconut, olive, jojoba and hemp oils, together with pure essential oils, creates an invigorating liquid soap that cleans without being aggressive. Produces a velvety lather that leaves your skin silky-smooth and refreshed.
Dr. Bronner's 18-in-1 Pure-Castile Soaps are good for just about any cleaning task. Face, body, hair – food, dishes, laundry, mopping, pets – clean your house and body with no synthetic preservatives, detergents or foaming agents.
View the Dilutions Cheat Sheet for all uses.

All oils and essential oils are certified organic to the National Organic Standards Program


Packaged in 100% post-consumer recycled plastic bottles


USDA National Organic Program


Fair Trade under IMO's "Fair for Life" program
Ingredients: Water, Organic Coconut Oil*, Potassium Hydroxide**, Organic Palm Kernel Oil*, Organic Olive Oil*, Organic Hemp Oil, Organic Jojoba Oil, Natural Almond Fragrance, Citric Acid, Tocopherol.
* CERTIFIED FAIR TRADE INGREDIENTS
** None remains after saponifying oils into soap and glycerin
Dr. Bronner's Magic Soaps are synonymous with Old-World quality and time-honored simplicity, which can be traced back to the family's German-Jewish soapmaking tradition. Born in 1908 to a Jewish family that had been making soap since 1858, Emanuel Bronner was the third generation certified as a master-soapmaker under the guild system of the time. In 1929, he brought his formulas for high-quality liquid and bar soaps to America, starting Dr. Bronner's Magic Soaps in its current form in 1948.
More about Dr. Bronner's