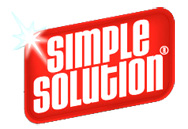 Featuring Oxy Charged™ neutralizers, this spray eliminates pet odors from your cat's litter box. The odor-encapsulating formula breaks down stuck-on urine and feces to make changing your pet's litter easier and more effective.
Treat your furry companion to a clean, fresh litter box with this Simple Solution Litter Box Deodorizer Spray. The formula breaks down stubborn urine and feces and chemically eliminates pet odors with Oxy Charged neutralizers. Designed to keep your home smelling fresh, this odor-encapsulating formula also encourages litter box acceptance.
For use on cat litter
Oxy Charged neutralizers seek out and bond with pet odor molecules to chemically turn them into odorless compounds
Specially formulated to break down stuck-on urine and feces
Helps ensure litter box acceptance and keeps your home smelling fresh
Odor-encapsulating formula eliminates foul cat smells and leaves behind a fresh scent
Made in USA
For everyday use, spray a light mist over the litter to control odors
For litter changes, remove litter and excess waste from the litter box
Liberally spray the litter box inside and out
Wait 5 minutes for the organic matter to break apart, allowing for easy removal
Using paper towels or old rags, wipe away all traces of waste
When the litter box is completely dry, fill with fresh litter and return to its original location
May irritate eyes. In case of eye contact, flush with water. Be safe and keep all cleaning products out of reach of pets and children. Do not use on wool or leather surfaces.
More about Simple Solution
In 1978, the Bramton Company began providing a high-quality line of pet care products. Our Simple Solution® line is a must-have for any pet parent because we are a trusted brand that will deliver exceptional, superior-performing products. Our complete line of pet products is designed for those discriminating pet parents who want to give their furry companions the very best. As a pet parent, you want products from names you can trust.