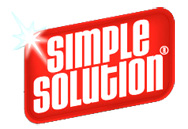 Powerful Cat Stain Remover
Simple Solution Extreme Cat Stain & Odor Remover is a powerful odor and stain remover. It has a powerful formula to fight stains and feline odor from carpets, floors and tiles. It works on almost all water-safe surfaces. It is an ideal solution to keep your house and pet area clean. It removes all stains and odors that would otherwise attract your pet cat from repeating the mark.
Contains the double power of Pro-bacteria and enzymes to totally eliminate cat stains and odors. Enzymes break up the urine and fecal material in between the carpet fibers into small particles. The bacteria cultures, found only in Simple Solution, biologically decompose what the enzymes break up. This turns the remaining residue into carbon dioxide and water, which are odorless. The bacteria produce even more enzymes until the odorous residue is completely digested. Great for permanently removing stains and odors from carpets, upholstery, clothing, tiles & more. Works on both new and old problem areas
Simple Solution Cat Stain & Odor Remover
Easy to use stain remover
Efficient odor control
Breaks the enzymes and fights the bacteria
A Closer Look: This formula efficiently breaks down enzymes and fights bacteria.

Made Specially for: Cats of all ages


More about Simple Solution
In 1978, the Bramton Company began providing a high-quality line of pet care products. Our Simple Solution® line is a must-have for any pet parent because we are a trusted brand that will deliver exceptional, superior-performing products. Our complete line of pet products is designed for those discriminating pet parents who want to give their furry companions the very best. As a pet parent, you want products from names you can trust.