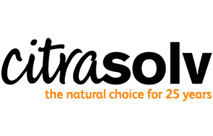 Made with real essential oils


All-Natural, Safe for septic systems


No Synthetic Pefumes or Dyes


No Phosphates, EDTA or NTA


Biodegradable & Derived from Renewable Resources


Cruelty-Free
Citra-Solv's naturally derived dish soap makes quick work of grease and baked-on foods, leaving dishes, flatware, pots and pans exceptionally clean and streak-free. Available in Valencia Orange (sweet & juicy), Lavender Bergamot (beautifully delicate), Lemon Verbena (fresh & invigorating) and Mango Tangerine (bright & sunny).
Ingredients
Natural Cleaning agents (coconut & vegetable based), Sodium Chloride (salt), Citric Acid
Essential Oil blend (valencia orange, mango tangerine, lemon verbena, lavender bergamot), Preservative (less than 0.002%) & Water.
Shelf life 3 years minimum.
About Citra-Solv
There's a better choice for keeping your world clean. Natural, biodegradable products that work hard at home—without using up nonrenewable resources or damaging the environment.
Citra Solv, LLC is dedicated to the idea that people should be able to enjoy
high-quality cleaning and personal care products without sacrificing performance or the environment. We specialize in the development of naturally-derived
products that are made from renewable resources and which have a minimum impact on our world. "At
"Citra Solv LLC, everything we do is driven by our desire to exceed the expectations of our customers. Every product is the result of our commitment to offer only the best. That's why each of our products comes with a 100% Money Back Guarantee. E-mail us or write us and let us know what you think of our family of products. We're always excited about hearing from our customers."