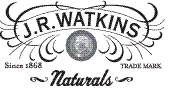 This luxurious natural body wash gently cleanses your skin without stripping away natural moisture, leaving it baby soft!
This innovative, ultra-moisturizing cream wash combines gentle plant-based cleansers with substantive emollient ingredients to deliver an ultra-soft skin feel unlike any other body wash.
Perfect for daily cleansing and shaving!
Jr Watkins Natural Apothecary Commitments
• 95% Natural and above
• Sodium Lauryl Sulfate Free
• Sodium Laureth Sulfate Free
• Paraben Free
• Phthalate Free
• Mineral Oil, Petrolatum free
• Dye Free
Ingredients: Water/aqua/eau (filtered and deionized), sodium coco-sulfate (plant-derived surfactant), Ricinus communis (castor) seed oil (natural emollient), coco-glucoside (mild sugar-derived surfactant), glycerin (natural humectant/moisturizer), hydrogenated castor oil (natural emollient), cetearyl alcohol (natural thickener and emollient), Butyrospermum parkii (shea butter) (natural emollient), sodium chloride (table salt), Vitis vinifera (grape) seed oil (natural emollient), sodium cocoyl alaninate (mild, natural amino acid-derived surfactant), fragrance/parfum, Rubus fruticosus (blackberry) seed oil (natural emollient), Aloe barbadensis leaf juice (natural plant extract), coco-caprylate (natural emollient and emulsifier), dicaprylyl ether (natural emollient), lauryl alcohol (natural emollient), cetearyl glucoside (natural emulsifier), lauryl glucoside (mild sugar-derived surfactant), panthenol (provitamin B5), tocopheryl acetate (vitamin E), retinyl palmitate (vitamin A), ascorbyl palmitate (vitamin C), niacinamide (vitamin B3), phospholipids (natural emulsifier), polyglyceryl-2 dipolyhydroxystearate (natural emulsifier), polyglyceryl-3 diisostearate (natural emulsifier), citric acid (natural fruit acid), guar hydroxypropyltrimonium chloride (plant-derived skin conditioner), phenoxyethanol (preservative), benzoic acid (food-grade preservative), dehydroacetic acid (preservative)
Nestled in the Mississippi River Bluff town of Winona, MN., Watkins has been America's pioneer in natural living since 1868. As America's original natural apothecary manufacturer, Watkins uses only the finest natural ingredients in its diverse lines of personal care, home care, remedies, and organic flavorings.
Committed to being America's most trusted natural products company, Watkins adheres strictly to the same quality standards set forth by its founder J.R. Watkins. J.R. Watkins line of personal care contains only natural, environmentally friendly ingredients from renewable resources, avoiding chemicals like parabens, sulfates, phthalates and more and, is one of very few lines to be certified by the Natural Products Association (NPA).
To earn this NPA seal, products must be made of at least 95% natural ingredients. This highly regarded seal represents the national standard for truly natural products and is carried by only a select group of brands that have met the demanding and proven natural standards.
Natural cleaners have also been a large part of its diverse product mix as far back as 1917, when the company first introduced Natural Vegetable Oil Soap made with pure vegetable oils and no animal bi-products, fillers or colors. Made with refreshing lemon and lavender oils and highly effective plant derived surfactants, Watkins diverse line of cleaners are safe and effective for your home and your family.
J.R. Watkins' six core values are:
• Demand of themselves the highest level of integrity.
• Focus on meeting their customers' needs and exceeding their expectations.
• Provide their investors an attractive return.
• Always take accountability for their mistakes.
• Encourage employees to develop, grow and improve quality of life.
• Contribute to the overall quality of life in their communities.