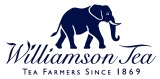 Available in three varieties, these attractive, collectible and re-usable Elephant Tin Caddies are packed by Williamson Tea, a family owned business with over 140 years of experience in the art of growing, selecting and blending fine teas. Displaying an African Elephant, a symbol of this firm's heritage, each colorful caddy contains round teabags of 100% natural Kenyan tea. Each variety is grown using sustainable farming methods at Williamson's private estates, ensuring a superior Fairtrade and Rainforest Alliance certified product. Each teabag is packed using only the finest tea buds and top two tea leaves, leaving a full flavor cup each and every time. These elegant tea caddies not only look good in your kitchen, but make a great gift idea as well.
Taste Features - Rich and refreshing tea bleand with fresh and bright black tea specially picked on Williamson's Kenyan farms. It's 100% natural and they use only the finest tips, just the bud and the top two leaves. This full-bodied tea can be enjoyed with milk at breakfast and throughout the day.
Serving Suggestions - Pour on freshly boiled water and infuse for 2 minutes or more.
Tin caddy dimensions: 7"h (17cm) x 4.5" (11.5cm) dia
Ingredients: Kenyan black tea.
All the tea in this pack is entirely grown using sustainable farming methods and Williamson ensures all workers are provided good working conditions and earn a decent living. Williamson is FairTrade and Rainforest Alliance certified.
Williamson & Magor is a premium tea company offering unique packaging where quality is a prime concern throughout the process. Each teabag is large enough for a small pot of tea.
Founded in 1869 by James Williamson, a captain on a river steamer on the Brahmaputra River (Assam) and Richard Magor who was a hotel manager in Calcutta.
The firm is the largest family owned Tea Company in the World. The group has 17 estates in Assam and 4 estates in Kenya.
They have blended teas and packed for many high profile brands, as well as for Harrods and Buckingham Place.