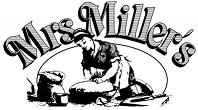 Expecting frogs? Think again. This unique and homemade F.R.O.G. jam is actually made with a creative mixture of three fruits and ginger.
Yes, it takes Figs, Red Raspberries, Oranges and Ginger (Did you know? Ginger is a vegetable!) to produce F.R.O.G. Jam! Each ingredient is perfectly blended in every batch of this unique and crowd-pleasing jam and the results (you'll see!) are great. Using the "F.R.O.G. flavor" will add a new flair to traditional toast and pancakes.
Ingredients: Sugar, figs, red raspberries, orange juice, pectin, ginger, lemon juice.
NUTRITION FACTS
Serving Size 1 serving (20g)
Servings per Container 13
Amount per Serving
Calories 50
Calories from Fat 0
% Daily Value*
Total Fat 0g
0 %
Saturated Fat 0g
0 %
Trans Fat 0g
Cholesterol 0mg
0 %
Sodium 0mg
0 %
Total Carbohydrate 13g
4 %
Fiber 0g
0 %
Sugars 4g
Protein 0g
Vitamin A 0%
Vitamin C 0%
Calcium 0%
Iron 0%
MRS. MILLER'S - AUTHENTIC, ALL NATURAL, HOMEMADE & DELICIOUS
Welcome to the family! Growing up in Amish Country, Sara learned to cook and bake at an early age. Her mother taught her to cook right on the farm, and Mrs Miller has since taken those cooking lessons right to her present day Mrs Millers' kitchen. For more than 20 years Mrs Millers' Homemade Jams has been bringing you delicious homemade jams, jellies and preserves. With more than 50 varieties - hand scooped out of kettles - ranging from our traditional Apple Butter to the ever popular Black Raspberry, to our Sugar Free products, we've got a flavor for everyone!