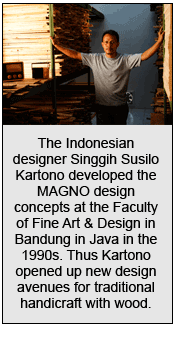 Every MAGNO radio represents a one-of-a-kind piece, crafted by hand in 16 hours.


It features a consecutive production number. Only 300 will be made this year.


The sound is very pure and resonant due to the digital radio receiver employed and the especially suitable wood (made of East Indian rosewood, the same material from which many musical instruments, such as flutes and guitars, are made).


Connections for iPod® or MP3 player via a 3.5mm audio jack and use it as a speaker.


The digital radio receives FM and AM.


Comes packed in an elegant box made of hard paper and albesia wood.


AUX-OUT for connection at a external loudspeaker.

Materials
Light wood: pine
Dark wood: East Indian rosewood
Recommended care for the radio: rubbing in a drop of pine or teak oil on its surface every once in a while.

Dimensions:
Length 19.1 cm x width 11.7 cm x height 13.5 cm; weight: 1300 grams

The MAGNO radio is manufactured entirely by hand in the workshop of the designer. Marginal deviations are therefore possible.
Magno has decided to go back to thier roots and decided to offer just ONE product - the original, simple and classic wooden radio. Together with Singgih Kartono, the designer and production manager, they re-developed the old model and worked out a streamlined budget structure which would make it easier to produce and lower costs.
Manufacturing has been consolidated from Indonesia to Germany and only 300 of the Ikono Classic wooden radios will be made in 2015. Get yours now before they run out!

Energy source:
Works with a power supply unit (included). Built-in rechargeable Lithium-ion battery.
Use the Senta Wooden Headphones to complete the retro look!
Selecting the Wood
Regional wood is purchased for the Magno radio. The designer buys it in the surrounding villages personally. Thus it is guaranteed that no uncontrolled wood is used. All varieties of wood being utilized are from tree plantations, not rainforests. The amount of wood needed is extremely small: they used 80 trees in 2010 but replanted 8000 all around the village of production. Kartono and his co-workers replace the wood that has been used by planting new trees systematically. A small tree nursery had been set up on the company's compound as well. The seedlings are planted on a regular basis, with the collaboration of students at the local high school.



More About Magno
The wooden radio by Magno is fabricated by hand, piece by piece, at Singgih Susilo Kartono's workshop in Temanggung in Central Java (Indonesia).
What initially started as a makeshift solution at the house of the designer has developed into a manufacturing location employing young wood handicraftsmen. The workers have to learn how to work with wood for about a year before they are capable of meeting the requisite high standards of quality. Many of the tools had to be invented from scratch so that they would comply with the Magno manufacturing requirements.
We decided to invest our budgets not in first world based certification companies but in our own ecologic program, our eco-farming and in our tree nursery. Our ecologic concerns and efforts have been witnessed by eco-organizations like Greenpeace or the WWF, by designers and journalists who have visited our production-workshop – even the nomination and short-listening for the Copenhagen based Ecodesign-Award INDEX proves our ecologic actions.
A factory workshop was completed not long ago in which 50 young high school graduates will learn how to work with wood. The handicraftsmen are to work in airy and bright rooms that do not impart the feeling of a production plant but, instead, integrate nature, wind and light.
The construction of an annex is scheduled for the future, in which the village school children can make their own wooden toys. Alongside learning a profession, the workshop assures the livelihood of many families in Temanggung on a long-term basis.