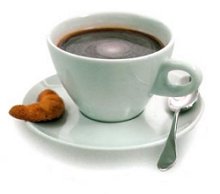 Indulge in a delicate combination of a unique blend of Central and South America fine French Roast Arabica beans and high quality chicory that is steeped in the traditions of New Orleans. The bittersweet richness of chicory lends itself to a heavier-bodied coffee that has become a New Orleans favorite.
Due to a coffee shortage during the Civil War, New Orleanians began extending their coffee supply by adding chicory, the root of the endive plant, roasted and ground. The result was a bittersweet, heavy-bodied brew. Popularized on the Louisianna Delta during the early 1900's. Coffee and chicory remains a New Orleans favorite today.
To make this blend of coffee, brew 1 heaping Tablespoon of coffee to each cup of water.
Traditionally this coffee is served as cafe au lait-- or coffee with milk. Warm your cream or milk. Warming the cream or milk enables a smooth blending of both liquids.
Pour your coffee into the cream and stir lightly. Traditionally it is a half coffee and half cream.
Sit back and relax and enjoy this rich syrupy coffee, dark, smooth and lovely!
For over 50 years Fortunes has been roasting gourmet coffees for people serious about their coffee. As you would expect from a specialty coffee roaster we use 100% Arabica coffee beans and gently roast them to perfection in house. We use the finest grades of specialty green coffees from the top growing regions around the world. And our coffees are roasted daily to assure you the freshest beans possible.