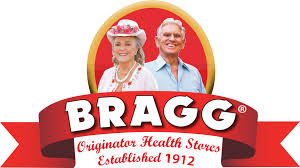 All Natural Drink Concord Grape-Acai is made just like the Apple Cider Vinegar that has been highly regarded throughout history. In 400 B.C. Hippocrates, the Father of Medicine, used it for its amazing natural detox cleansing, healing, and energizing qualities. Hippocrates prescribed Apple Cider Vinegar mixed with honey for its health properties. Now you can enjoy Bragg Organic Apple Cider Vinegar in a convenient refreshing drink with all the same great benefits.
Made with Organic Apple Cider Vinegar, organic ginger and organic stevia extract
Sweetened with Natural Stevia
Great-Tasting, Refreshing Drink
Convenient Pre-mixed Drink (two 8-oz Servings per Bottle)
Certified Organic and Kosher Certified
Low Calorie
YOU WILL LOVE IT!!
Bragg Organic Apple Cider Vinegar All Natural Drink is based on Paul and Patricia Bragg's orginal recipe. It's made with Bragg organic apple cider vinegar and pure distilled water. It's great-tasting, healthy, and perfect for that quick energy boost.
Bragg - Organic Apple Cider Vinegar All Natural Drink Concord Grape - 16 oz.
Supplement Facts
Serving Size: 8 oz. (240 mL)
Servings Per Container: 2




Amount Per Serving
%DV*


Calories
60




Calories from Fat






Total Fat
0 g
0%


Saturated Fat
0 g
0%


Trans Fat
0 g
*


Cholesterol
0 mg
0%


Sodium
0 mg
0%


Total Carbohydrate
14 g
5%


Dietary Fiber
0 g
0%


Sugars
13 g
*


Protein
0 g
0%




*Percent Daily Values are based on a 2,000 calorie diet. Your diet values may be higher or lower depending on your calorie needs.
Ingredients: Pure Distilled Water, Organic Concord Grape Juice, Bragg Organic Apple Cider Vinegar, Organic Acai Juice and Organic Stevia Extract.
What is Natural Apple Cider Vinegar?
Different from the refined and distilled vinegars usually found in supermarkets, Natural Apple Cider Vinegar is made from fresh, crushed, organically grown apples and allowed to mature in wooden barrels, which boosts its natural fermentation qualities. When mature, it contains a web-like substance, called "mother" that becomes visible when the rich brownish liquid is held to the light.
Is Apple Cider Vinegar safe to take during pregnancy?
Bragg Apple Cider Vinegar is safe to take during and after pregnancy. It helps to rid the body of toxins and may even help with any complications that may arise or have arisen with the pregnancy. It supports regularity and promotes digestion.
Is it possible to take too much Apple Cider Vinegar?
There is no clear limit as to how much Apple Cider Vinegar an individual can or should ingest. However, one should remember that, as with anything in life, one can have "too much of a good thing".For a delicious, ideal pick-me-up at home, work, sports or gym, they recommend taking the Bragg Vinegar Health Drink 3 times daily - upon arising, mid-morning and mid-afternoon. To make the drink, stir 1 to 2 tsps Bragg Organic Vinegar in 8 oz. Glass Purified Water and (optional) to taste 1 to 2 tsps Organic Honey, 100% Maple Syrup, Blackstrap Molasses, or 4 drops herb Stevia.
What, exactly, are the internal and external benefits attributed to ACV?
Following the old cliché, "An apple a day keeps the doctor away," apples are one of the oldest, most nutritious foods on earth. They are rich in potassium, a mineral many of us are deficient in, and a deficiency that causes old age to creep upon us sooner. Calcium maintains our hard tissues such as bones, and potassium is the equivalent to the body's soft tissues, keeping the body's flesh and arteries soft and resilient. Fresh, organic apples are used to make Apple Cider Vinegar, which contains necessary ingredients, such as enzymes, and life-stimulating minerals, mainly potassium, in a natural state. Besides being a natural stimulant for vitality, Apple Cider Vinegar cleanses and restores nutrients to the body so that the body can heal itself.
Remove Body Toxins

Helps Promote a Youthful Body

Helps support a healthy immune system

Helps Maintain Healthy Skin

Helps Control Weight

Improves Digestion and Assimilation

Soothes Tight and Aching Joints and Sore Muscles from exercise

Soothes irritated skin.
Is Bragg Apple Cider Vinegar Gluten Free?
Yes. Bragg Apple Cider Vinegar is Naturally Gluten Free.
Is their ACV safe for people with peanut, gluten (wheat), and tree nut allergies?
Yes. The equipment they use to make Bragg ACV is dedicated and not contaminated.
More About Bragg
Paul, and his daughter, Patricia, have been health pioneers for decades. When the 'engineered fast food' products of science and industry had captured the attention of most Americans, Paul Bragg campaigned for a diet and lifestyle that focused on natural live foods and a healthy regime for a vital and long life. These ideas, based around natural and organic foods, are gaining praise and acceptance world-wide.
The Bragg Healthy Lifestyle Motto: "You are what you eat, drink, breathe, think, say and do".