Rick Steves' Europe 101: History and Art for the Traveler by Rick Steves, Gene Openshaw Paperback Book
Rick Steves' Europe 101: History and Art for the Traveler by Rick Steves, Gene Openshaw Paperback Book
Shipping:
Calculated at checkout
Gift Wrapping:
Options available
---
Product Description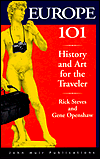 Now in full-color comes a witty and engaging look at Europe's history and art, from America's European travel guru.
Rick Steves' Europe 101
helps you make the most of your sightseeing. A fun but informative guide, this "professor in your pocket" features chronologically organized chapters—from the pyramids to Picasso—that explain the forces behind Europe's most important cultural and artistic periods. Other features include handy lists of sights that allow you to link your newly acquired knowledge with the specific paintings, sculptures, and buildings you'll see on your trip, a humorous, readable style that is a joy to read compared with the history textbooks you slept on in school, and timelines, maps, drawings, and photos that illustrate Europe's story and round out your education.
Annotation
Called by Arthur Frommer, the "rising star in travel guide publishing, " Rick Steves knows how to write guidebooks that make European culture accessible to everyone. This highly readable overview of European history and culture carefully ties each style of art to its historical era and relates it to the reader's trip. 250 photos. 30 illustrations. 15 maps.

---
Find Similar Products by Tag
---
Find Similar Products by Category
---