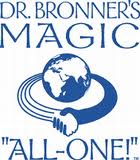 All-in-One cleanser for all multiple uses: Dishes, floor, laundry & more—the ultimate multi-purpose household cleaner!


Effective but mild on skin


Old-World quality and time-honored simple formula


Non-GMO Verified - Cruelty Free - Vegan
Sal Suds is a balanced formulation of naturally derived surfactants with pure fir and spruce essential oils. Sal Suds is not petroleum soap-based and is formulated especially for all-purpose hard-surface cleaning.
Dr. Bronner's Sal Suds is an effective and mild cleaner. It's a balanced formulation of naturally derived surfactants with natural fir pine needle oil that cleanses and rinses with exceptional power, yet is mild and gentle on the skin. Sal Suds is biodegradable and is an excellent cleaner for your entire house. You can even use it to wash dishes, floors, rugs and laundry. Not animal tested.
Ingredients: Water, Sodium Lauryl Sulfate, Coco-Betaine, Lauryl Glucoside, Fir Needle Oil, Spruce Oil.
Suggested Uses: Sal Suds Liquid Cleaner is the ultimate multi-purpose cleaner, great for just about any household cleaning task. Use a couple tablespoons for an average load of laundry, dilute with water to sponge down countertops or to mop your floor, or even mix with baking soda to make a powerful scouring agent for bathtubs and sinks.
1 1/2 teaspoons per gallon water will clean your whole house.
1 1/2 teaspoon does a sink of dishes.
Pour some directly on fabric stains before washing.
Use a 1/4 cup for a load of laundry.
Use it for cars, floors, rugs, and any other surface that is safe in contact with water, even wood floors!
For extra heavy jobs, cut it in half or use it straight.
For more on Sal Suds' many uses, check out Lisa Bronner's "Sal Suds Dilutions Cheat Sheet."
View Going Green with a Bronner Mom blog for hints and tips.
Dilute Sal Suds in a spray bottle available here.
Dr. Bronner's Magic Soaps are synonymous with Old-World quality and time-honored simplicity, which can be traced back to the family's German-Jewish soapmaking tradition. Born in 1908 to a Jewish family that had been making soap since 1858, Emanuel Bronner was the third generation certified as a master-soapmaker under the guild system of the time. In 1929, he brought his formulas for high-quality liquid and bar soaps to America, starting Dr. Bronner's Magic Soaps in its current form in 1948.
More about Dr. Bronner's