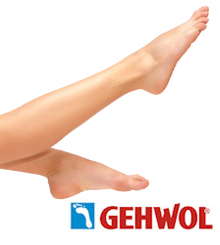 Caring ointment for excessively dry, hard, rough and cracked skin


A deeply reparative ointment for rough dehydrated skin
Gehwol Foot Care Med Salve for Cracked Skin restores suppleness and comfort to dry and flaky skin with a nourishing emollient blend of medicated extracts and essential oils. Lanolin and Vaseline soften hard calluses while bisabolol and panthenol repair skin's lipid barrier to reduce dermal fissures. Eucalyptus, lavender, rosemary and camphor soothes irritation and promotes healing for a soft and smooth texture.
The ointment treats heavily callused, dry, cracked, and rough skin and protects against inflammation and symptoms linked with cracked skin. Stimulates blood flow while cooling and refreshing tired feet.
For best results use twice a day and continue treatment with Gehwol med Callus Cream after cracked skin has healed.
Ingredients: Lanolin, Vaseline, medicated soap, panthenol, Bisabolol, zinc oxide, eucalyptus oil, lavender oil, rosemary oil, menthol, camphor.

Video Demonstration Pedicure (from mfr)
More About Gehwol
From Lübbeke in North Rhine Westphalia, Eduard Gerlach GmbH supplies foot specialists from all over the world. Eduard Gerlach laid the cornerstone for the world brands GEHWOL and GERLACH TECHNIK in 1868 when he took over his father Ludwig's colonial wares business and expanded it with a pharmacy. This line of quality foot care products helps your feet to look, feel and smell their best by treating odor, muscle aches, bunions, blisters and calluses as well as delivering conditioning hydration to keep your feet soft, smooth and comfortable.