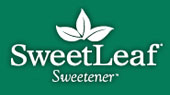 The Sweetness Your Family Craves. The Natural Goodness They Deserve.®



Zero Calories | Zero Glycemic Index


Deliciously Sweet


Pure Premium Ingredients


Free from Chemicals and Additives

SweetLeaf® is the only zero-calorie, zero-carb, zero-glycemic index, 100% natural stevia sweetener there is. Grown sustainably, SweetLeaf® provides the delicious sweet taste you crave. SweetLeaf Stevia is America's first completely natural sweetener. Made from the purified extracts of the Stevia Leaf, SweetLeaf Sweetener® has nothing artificial in it! Ideal for diabetics, weight watchers and everybody else too, this Kosher-certified sweetener uses only the highest quality stevia. And unlike chemical sweeteners it is great for cooking and baking.

Making the world a sweeter place one packet at a time.™
What are the benefits of SweetLeaf Sweetener?
SweetLeaf Sweetener has a delicious sweet flavor and is the only sweetener in the world that is 100% natural with zero calories, zero carbs, and a zero glycemic index.
What is the FDA's position on Stevia?
Results of extensive scientific research and tests in the US and around the world made it possible for SweetLeaf Sweetener to obtain GRAS status, the FDA classification of foods that are safe. It is the first Stevia-based product to achieve this designation.
Are there differences between brands of Stevia?
Absolutely. SweetLeaf Sweetener only uses the highest-grade Stevia plants with high concentrations of the best tasting sweetening compounds. Leaves from these plants are then dried and concentrated using purified water – and nothing more. The result is a fresh, clean, sweet taste without the bitter aftertaste found in inferior products. The makers of SweetLeaf Sweetener have been working with Stevia longer than anyone else in America so they truly understand the plant and its sweetening properties.
The sweet flavor of SweetLeaf comes from the Stevia plant – a natural herb cultivated in the unique climates of South America. Each time you enjoy the goodness of SweetLeaf, you support positive, sustainable production in these countries. In fact, farmers are learning they can earn more growing Stevia than they can growing crops used for illegal drugs. That makes the world a safer and healthier place for everyone.
Stevia Rebaudiana is an herb in the Compositae family that grows as a small shrub in parts of Paraguay and Brazil. The glycosides in its leaves make it incredibly sweet, a property unique among the nearly 300 species of stevia plants. Stevia is primarily cultivated in Paraguay, Brazil, Japan, China, and Colombia. There are other growers scattered across the Pacific Rim. Stevia is also being cultivated in Southern Ontario, Mexico, India, and other countries.
Stevia has been used to sweeten beverages and medicines since Pre-Columbian times. In the 1500s, the Spanish Conquistadors learned about Stevia from the Guarani Indians of Paraguay, who used the plant's leaves to sweeten tea and medicine. A scientist named Antonio Bertoni first recorded its usage by native tribes in 1887. In 1931, French chemists Bridel and Lavielle conducted exploratory extraction on Stevia leaves and discovered a crystalline compound they name "Stevioside," which was found to be 250 to 300 times sweeter than table sugar.
During WWII, England and the United States began researching its potential during the sugar shortages. In the 1970s, Japan approved Stevia as a sweetener and flavor enhancer for food. Finally, in 1982, Wisdom Natural Brands founder James May brought Stevia to the United States after being introduced to the plant in Paraguay.
High quality Stevia leaves are up to 30 times sweeter than table sugar and will NOT raise blood sugar levels, making it safe for diabetics. The purified extracts of Stevia (called Steviosides) can be 250–300 times sweeter than table sugar. For the past 30 years, other countries have approved the use of Stevia as a sweetener and their populations have integrated Stevia into their diet. Stevia-based sweeteners have a nearly 40% market share in some of these countries.*
Suggested Use: 1 tab equals 1 tsp. of sugar. Enjoy SweetLeaf Sweetener in your favorite coffees & teas.
Supplement Facts
Serving Size: 1 Tab
Servings Per Container: Approximately 100 (equal to 100 tsp sugar)
Per Serving Daily Value Amount
Stevia Leaf Extract **
** Daily Value Not Established. Percent Daily Values are based on a 2,000 calorie diet.
Other Ingredients: Cellulose. Non-GMO. Gluten-Free. Lactose-Free
More About SweetLeaf/Wisdom Natural
SweetLeaf is the brand name for the first and only great-tasting, natural, zero-calorie, Stevia-based sweetener offered in America. It was first introduced in 1996 as a dietary supplement.
Then, after some of the most stringent scientific research on its safety and its unique, ultra-pure formulation, SweetLeaf Sweetener became the very first Stevia-based product to achieve GRAS status
Wisdom Natural Brands is the parent company of three highly respected consumer brands: SweetLeaf, Wisdom of the Ancients, and Sweet & Slender Natural Sweetener.
Wisdom Natural Brands is the leading US manufacturer and marketer of Stevia.
Over 25 years ago, entrepreneur and Wisdom Natural Brands founder and CEO Jim May was in Paraguay, where he tasted the Stevia plant and realized its potential. Mr. May invested his life savings in bringing the plant and its benefits to market. Today, SweetLeaf brand Stevia products have the largest market share in the industry. The introduction of SweetLeaf Sweetener as the only all-natural, zero calorie, zero carb, zero glycemic index sugar alternative is sure to increase that market share even more.