Connective Tissue Liquid Extract 1 fl oz/29.6ml Herb Pharm
Connective Tissue Liquid Extract 1 fl oz/29.6ml Herb Pharm
Connective Tissue Liquid Extract 1 fl oz/29.6ml Herb Pharm
Shipping:
Calculated at checkout
Gift Wrapping:
Options available
---
Product Description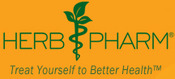 Musculoskeletal Support*
Ingredients: proprietary extract blend:
Gotu Kola herb (Centella asiatica) 1
Hawthorn berry, leaf & flower (Crataegus spp.) 1 2
Echinacea root (Echinacea purpurea) 1 F
Horsetail herb (Equisetum spp.) 2 F

Other Ingredients: certified organic alcohol & distilled water. GLUTEN-FREE

1 Certified Organically Grown
2 Sustainably Wildcrafted
F Fresh (undried)

All of the herbs in this formula are individually extracted to ensure a broad spectrum of therapeutic plant compounds.

Suggested Use:
Shake Well Before Using
Take up to 40 drops in 2 oz. of water or juice, two to four times per day. Best taken between meals.

Caution: Keep Out of the Reach of Children
Store away from heat & light.
More About Herb Pharm
Herbal medicines are only as effective as the quality of the herbs from which they are made. When Ed Smith and Sara Katz founded Herb Pharm in 1979 they understood as herbalists this basic principle and have never compromised in their efforts to provide the highest quality, most effective whole-herb healthcare products possible. They know that producing effective herbal extracts that enable people to affect positive changes in the quality of their health is based on diligent study and understanding of traditional herbal medicine, as well as modern herbal sciences. At Herb Pharm they grow most of the herbs on the "Pharm Farm" – their certified organic farm located in a rural valley of the Siskiyou Mountains in southern Oregon. As organic farmers, they never use synthetic fertilizers, herbicides and pesticides, nor do they use genetically modified seeds. Instead, employing fundamental, time-honored sustainable agriculture techniques including crop rotation, cover cropping, natural weed control such as hand weeding and flame weeding, and composting to condition the soil. Each year, our farm is inspected and certified as organic by Oregon Tilth.

---
Find Similar Products by Tag
---
Find Similar Products by Category
---