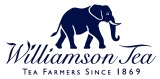 Lifeboat Tea is a lovely full-flavoured, family-owned tea that has been created to provide sustainable funding for the Royal National Lifeboat Institution (RNLI) - the charity that saves lives at sea.
For every pack of this deliciously refreshing tea sold through Tesco, ASDA, Waitrose and RNLI shops, 7 pence will go direct to the RNLI.
But it's not just the RNLI that benefits, this pure Kenyan black tea is also grown on farms that are Fairtrade certified and approved by the Rainforest Alliance, which works tirelessly to conserve biodiversity and protect the rights and welfare of workers, families and communities. It's also 100% natural and made using the freshest tips, just the bud and the two top leaves.
So drink Lifeboat for a truly good cup of tea!
Ingredients: Kenyan black tea.
The only tea company in the world with all of their farms Fair Trade and Rainforest Alliance accredited, Williamson Tea is known for the care and education they provide their workers. A delicious tea available in an impressive variety, Williamson Tea, paired with your cup, are helping to make the world a better place!
Williamson & Magor is a premium tea company offering unique packaging where quality is a prime concern throughout the process. Each teabag is large enough for a small pot of tea.
Founded in 1869 by James Williamson, a captain on a river steamer on the Brahmaputra River (Assam) and Richard Magor who was a hotel manager in Calcutta.
The firm is the largest family owned Tea Company in the World. The group has 17 estates in Assam and 4 estates in Kenya.
They have blended teas and packed for many high profile brands, as well as for Harrods and Buckingham Place.