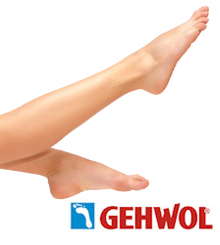 Cool Cream for Fresh Feet


Cares and deodorizes
Natural peppermint oil and menthol refresh tired, sore and strained feet and legs. GEHWOL Refreshing Balm immediately revitalises, cools and deodorises your feet and gives you a long-lasting feeling of freshness. Protective substances regulate the moisture of the skin and restore elasticity to hardened skin areas. GEHWOL Refreshing Balm protects you from infections and itching between the toes, is quickly absorbed and is non-greasy.
Refreshing foot and leg care. Dermatologically tested.
Active Ingredients: Skin-friendly alcohol, emusifier-free gel base, urea, menthol, peppermint essential oil.

Video Demonstration Pedicure (from mfr)
More About Gehwol
From Lübbeke in North Rhine Westphalia, Eduard Gerlach GmbH supplies foot specialists from all over the world. Eduard Gerlach laid the cornerstone for the world brands GEHWOL and GERLACH TECHNIK in 1868 when he took over his father Ludwig's colonial wares business and expanded it with a pharmacy. This line of quality foot care products helps your feet to look, feel and smell their best by treating odor, muscle aches, bunions, blisters and calluses as well as delivering conditioning hydration to keep your feet soft, smooth and comfortable.